Discussion Starter
·
#1
·
In preparation of making a new engine mount design, I am modeling and analyzing the factory engine mount.
I have performed a few FEA (finite element analysis) evaluations of the mount based on different directions of applied load and applied materials.
While I myself do not have the original design documentation for the mount itself, my rough reverse engineered interpretation has given me a good idea how this mount behaves under certain loading conditions.
Here is an example of the different types of conditions I'm evalustaing. Mount is assumed fixed at the subframe face connection, and a 300 lb*f load applied through the bolt sleeve.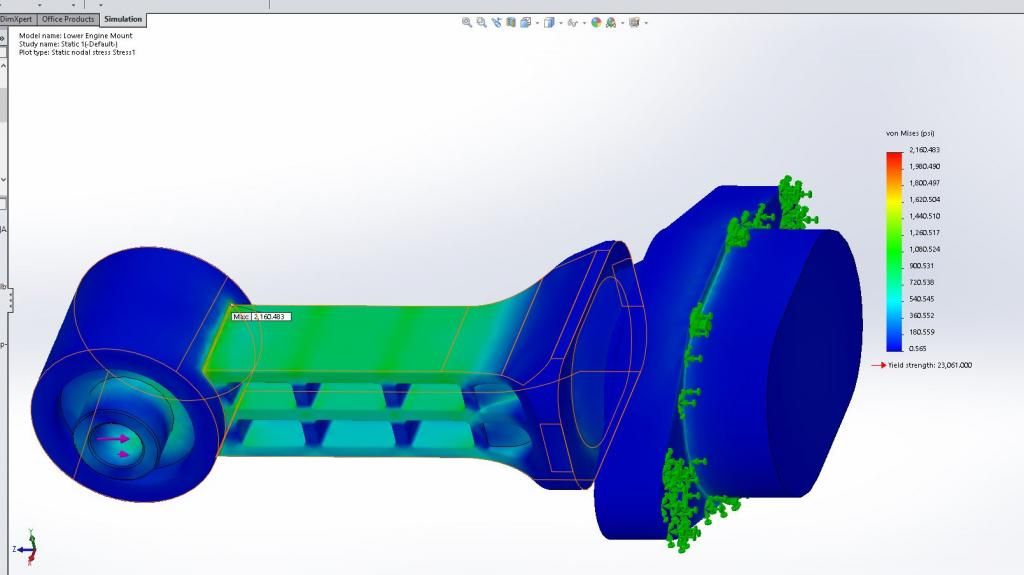 As far as I can tell, this is what we are looking at with the factory mount:
- Investment cast aluminum alloy - not 100% on this, although the surface finish and clean edges and inside radii make it seem that way
- not sure on the alloy, I have access to a Niton metal analysis gun and I'd like to see what it's made of
- still trying to nail down bushing rubber type and durometer. I should just buy a durometer tester
I won't look too much into this though as I am researching bushings to use right now.
If we assume one of the cheapest and weakest alloys was used, the aluminum structure of the mount still has a good factor of safety at our 300 lb*f load.
I will be designing our new mount with much higher loads in the computer, and will also have a large factor of safety built in.
Right now, expect a billet aluminum body with high quality bushings. The mount will also have some adjustability for axle alignment.
I will update this thread as things progress.