Got mine from Tork Motorsports. All 4 pieces are the same no designated fronts or rears.
It didn't really take very long to do. Once you do one side of the car the other side is identical.
The feel is much tighter on the steering on corners and turns and I've noticed less bounce in general.
For the price, it makes sense to do and I'm happy with them.
Things you will need:
jack, jack stands, light, 1/2 in rachet, socket 14,19, and deep socket 19 with at least 6in extension, at least 1/2 in breaker bar, torque wrench (115-130 ft/lbs)
1. Jack up the car from the mount and place jack stands around the centers of the subframe.
2. Starting from the front passenger side, the fronts will be through the hole where my index finger is, straight up you will see a pointed bolt and a nut.
3. Remove the nut with the breaker bar and socket 19 with extension.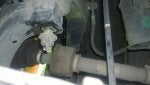 4. If there is debris in the grooves where the collars slide in, use a fine pointed or small flat blade to dig it out.
Otherwise if there is no debris, slide the collar in, and screw the nut back into place but not tightened.
I didn't have trouble sliding this one in at all. Others might have mixed results.
5. Now for the passenger rear. Picture is from down under on passenger side facing the front.
My index finger is pointing at the rear bolt. Loosen the bolt with the breaker bar or rachet using socket 19.
6. In the same way as the front, remove the bolt, insert the collar, and screw back bolt into place but not tightened.
I couldn't slide the collar in perfectly this time as it wasn't aligned perfectly. There are 2 adjacent bolt and nut in that same triangle.
Loosen them with socket 14 just enough to jiggle around the triangle until the collar slides in.
Screw back into place the 2 adjacent bolt and nut but not tightened.