Discussion Starter
·
#1
·
probably the next best mod to the IC res delete and its free.
similar to how the IC res delete smooth out most of the surges, well a gutted cat will remove the rest of it.
you need to jack up the car and apply jack stands on all 4's. some lighting and a socket set will be needed.
as far as the excavating, i used all the useful tools i could get my hands on to accelerate the process.
screw drivers (longer the better), pry bars, crow bars, drill with drill bits, hammer or even sledge hammer, etc.
jack the car up and jack stands on all 4's. give yourself enough lift to have room to remove and install the midpipe.
pictures of the midpipe front to back.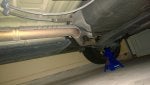 2 nuts at the front
2 nuts at the back
slide rubber insulator off the hanger
out comes the midpipe and the nuts/gaskets
i used wd-40 and an old toothbrush to clean the rusted nuts and threads off the flanges.
the gaskets looked okay to reuse.