Discussion Starter
·
#1
·
Ok so I will put in as much as I can remember. I planned on just removing the bracket and pulling the IC forward......but I dropped my 10mm socket... so I had to pull the bumper. Knowing what both ways entail; I like the removal of the bumper as opposed to prying on the IC. Ok let's see if I can get the point across with these pictures.
Ok so to start off I removed the four screws that attach to the plastic shroud/ top of bumper.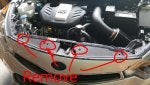 Once those screws are out you can pull up on the shroud and expose the IC Top Mount Bracket Screws. Take these out.
It was at this point that I dropped my 10mm and had to remove the bumper, but now you can remove the cold side of the IC. Move it out of the way and you can pry out on the IC and jimmy a nut driver with a swivel and a 10mm socket in and remove the rear bolt.
These are the only helpful photos I have but if anyone has anything to add feel free. I wanted to start this thread so people aren't going into this mod blind.
Notes:
Back bolt on BOV is difficult to reach even after freeing the top of the IC.
There really isn't clearance but it I did manage to get the top mounting plate back on with some torque.
Bumper removal is IMHO a better method.
You have to unscrew the top of the new BOV and rotate it 90° counterclockwise from its original position. Make sure you have metric Allen Keys.
The stock vacuum tube was too short and I had to use the tube they sent.
The male end on the BOV is larger than the stock vacuum tube.
Tools:
Philips head screw driver
10mm socket
Nut driver
Socket wrench
Swivel head
I hope this helps. Have fun modding.