Discussion Starter
·
#1
·
Hello all, this is 6 months in the making and oh boy is it worth the wait!
I have been driving with a 85% complete Front Mount Intercooler kit and I am excited to say the least.
Things left to do as far as design?
- design bracket for mounting blow off valve solenoid and lines
- design attachment for boost signal for BOV solenoid
- add possible bottom cover plate for hot piping under the engine
Now with that out of the way let's talk about the only CON so far, and it's only really related to the BOV.
As stated in the other thread, I have chosen to include a quality BOV in the kit, that flows a lot of air, sounds really cool, it's adjustable, and is a great valve for a good price.
It is the Turbosmart Vee Port Pro.
Now, this valve is currently set on the softest spring setting and is not opeing during really light throttle and gear changes (driving below 10 mph). I hear a lot of surge because the valve isn't activating.
Once you're above 10-15% throttle and driving normally, it opens all the time and sounds great!!! But since we have that really low speed, non opening condition, I am getting a single CEL for the blow off valve not opening.
I am currently investigating a softer spring to install in it and that problem will be solved. Now on to the fun stuff!
-----------------------------------------------------------------------------------------------------------------------------------------------------------------------
So, after the installation, the very first thing I noticed is that throttle response DID NOT CHANGE AT ALL!!!! The car still feels the same as before for partial and full acceleration from any rpm at any gear.
I am very surprised there is no extra lag given I've increased the charge volume. Acceleration feels great and the power increase is definitely there.
I will be confirming the power increase both on the dyno and on the street. My new Bluetooth OBDII reader for Torque App will be here in a couple days and I will post logs. I also have a few races lined up that will be a repeat from last week for comparison purposes.
The only real hard data I have is the cooling efficiency of our core design. I purchased a ProSport Intercooler Dual temp gauge, that comes with two temp sensors and it displays a "before" and "after" temp reading of the air in the intercooler.
I installed the sensors in the end tanks as you can see in the pics below (brass fittings).
This gauge couldn't have been more helpful. You can literally watch the hot side "before" temperature climb as boost is held and you run through the gears. The "after" temp barely changes, meaning the core is doing its job!!!!
Take for example these two pictures I took with my phone. Intercooler inlet temp on top and outlet temp on bottom. Ambient temp today during these trials was 82* F.
- First pic - low 2nd gear roll thru top of 4th gear. Photo taken at top of 4th gear.
- Second pic - turn car around, low 2nd gear roll thru top of 5th gear. Photo taken at top of 5th gear.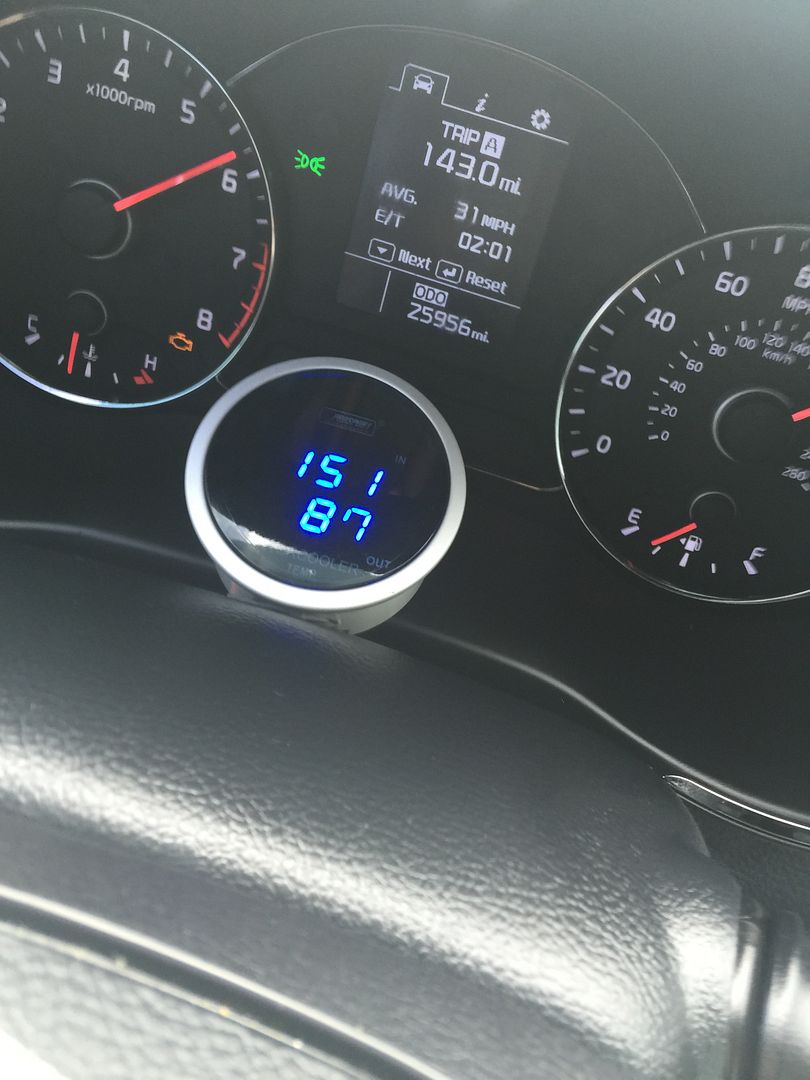 Since the core is up front it doesn't heat soak at all, and it cools the charge air like a boss!
I will update this thread in the next week or two with street results and I am going to try to make a dyno appointment this week.
I'll be finishing the little details of the kit very soon and I hope to have this thing shipping by Thanksgiving.
Any questions, please post up!
Now on to the pr0n!